ZODIAC

For almost ten years I have been using the Patchwork 3D software daily in my work as a Color and Material designer.
I discovered Patchwork 3D in Citroën's C&M studio where I was working on the new DS Automobile premium vehicles.
The ease of use and the infinite rendering capabilities of the software allow me to highlight and visualize each detail with great precision. Then I brought Lumiscaphe with me to BRP (Bombardier Recreational Products) in Canada. Patchwork 3D's unfolding capabilities allow you to accurately apply the many graphics of a snowmobile, personal watercraft or even a buggy with a complex and avant-garde design.
Now, I use Patchwork 3D at Z Nautic Group to create 3D visuals for all Zodiac, Bombard, Avon and Aka Marine brands.
On the Avon eJET 450 projects, an electric luxury annex, the C&M offer had to be very broad to meet the expectations of this market used to customization and customization.
Patchwork 3D allowed me to work on the C&M combinations with internal aesthetic validation and to visualize them very easily via the layer and configuration system. When the eJET 450 was presented at the Yacht Show in Cannes and Monaco, it seemed logical to allow prospects to quickly visualize their annex with an ultra-realistic rendering.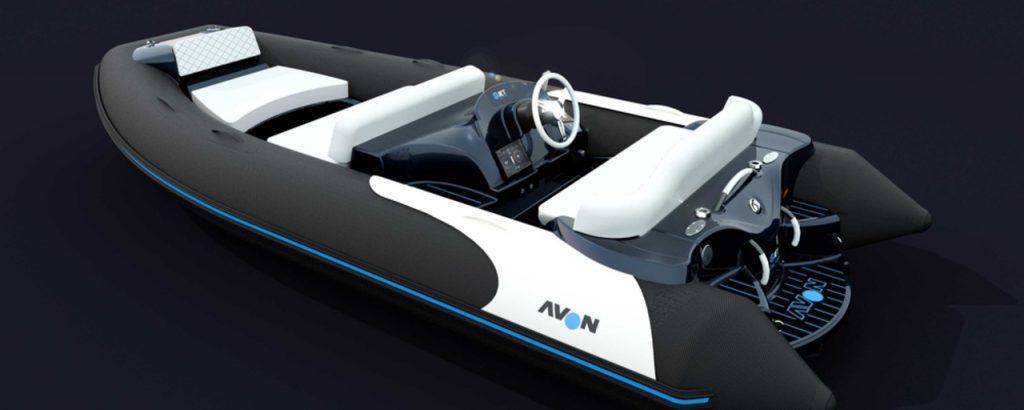 The gateway between Patchwork 3D and the configurator is very easy because all the configurations (C&M, options, etc…) are already configured upstream. The configurator offered two possible inputs. The first allowed to enter through an atmosphere, a lifestyle, in which the customer recognized himself, the second allowed a configuration from a blank page, more precise for customers with well-defined expectations, all the configurations represented several tens of thousands of possibilities by the colors of floats, paint, upholstery or even flooring.
This 3D configurator was visualized on a TOMA touch panel at 42″ on both shows. It allowed a large number of visitors to configure their dream electrical annex and trigger several quotes. 3D visualization allows both to seduce by the image but especially to project themselves before an expensive purchase.
Find out the Avon eJET 450 renderings on Avon-tenders.com